CF3 Series
CF3 Series Multifunctional Flatbed Cutting Plotters
The Mimaki CF3 series large format flatbed cutting plotters can handle an extensive range of applications up to 5 cm thick. It incorporates three exhangeable head types (router, reciprocating, or tangential head) and innovative cutting technology. For an effective print and cut solution, CF3 series can be combined with Mimaki's UV curable flatbed printers, the JFXplus series.
CF3 Series delivers •••
Three different cutting heads to choose from: router, tangential, reciprocal
Precise contour cutting with the patented Mimaki colour photo sensor
Vacuum system to hold down the media
Automatic table surface cleaning
Ultimate print and cut combo with JFXplus series
Applications
Applications of CF3 Series
The CF3 series can cut all kinds of industrial products, such as operation panels, buttons, ID cards, packaging materials, fashion accessories (belts), toys, Printed Circuit Boards and a lot of signage, from small to large items and thin to thick materials, including 3D logos, thick robust signs, large POS displays and display materials. The list of possible applications is practically 'limitless'.
Suitable cutting materials
Suitable materials for the router model are: aluminium, polyacrylic, plexiglas, PVC, foam board, wood, et cetera. Besides these materials, the tangential and reciprocal cutting models can cut a variety of materials:
Corrugated fibreboard
Coated board for packaging
Vinyl chloride for packaging
Plastic corrugated fibreboard
Vinyl chloride sheet for signboard
Reflective sheets
Sandblast rubber
Industrial sheet rubber (max. 3 mm)
Vinyl
It is important to test the material, since material characteristics may differ between manufacturers.

Specifications
Specifications of CF3 Series
Effective cut area
CF3-1610: 100 x 160 cm
CF3-1631: 310 x 160 cm
Driving method
X, Y, Z – axes DC servo, special timing belt
Maximum speed
50 cm/s
Accuracy of repeatability
Plus minus 0.15 mm
Maximum cutting depth
Router : 5 cm
Tangential cutter : 1 cm
Reciprocal cutter : 2 cm
Media set device
Flatbed with vacuum system (CF3-1610: 2 partitions, CF3-1631: 6 partitions)
Interface
USB, RS-232C
Power consumption
Less than 1200 VA, 6000 VA (blower)
Dimensions (w x d x h)
CF3-1610: 338 x 200 x 135
CF3-1631: 338 x 423 x 135
Other devices needed
Industrial vacuum cleaner for table cleaning
Compressor for blowing away the dust/ left over materials
Features
Features of CF3 Series
Three Exchangeable Head Types
The CF3 series incorporates three exchangeable head types (router head, tangential head or reciprocating head) which allow for cutting a wide range of materials. Switching heads can be done relatively quick. Other tools, such as swivel cutter, pen tool, and creasing tool, are also available.
Router model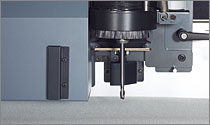 Rigid materials, such as acrylic and aluminium, up to 50 mm thickness can be cut with a high speed spindle. The router model is especially suitable to cut: rigid and thicker materials.
Spindle speed : max. 60,000 rpm
Max. tool diameter : 6 mm
Tool chuck / clamp system : collet type
Max. cutting depth : 5 cm (depending on material)

The tangential cutter steers the blade as it cuts. The motor controlled blade lifts and turns to start every cut at the exact angle. Both half and die cutting is possible. Various materials, ranging from soft to ridged, can be cut. The cutting capabilities and cutting depth depend on the type of material. Any suitable blade available in the market can be mounted.
Vertical tool force:
– Low pressure head : 300 – 1500g
– High pressure head : 1000 – 5000g
Tools: tangential cutter, swivel cutter / pen, creasing tool
Max. cutting depth: 1 cm
Reciprocating model (R1 head)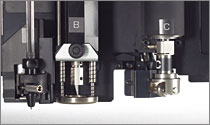 A reciprocating cutting system is characterised by the up-and-down movement of the cutter blade in addition to tangential cutting. The reciprocating cutter is especially suitable to cut corrugated board, cardboard and foam materials. Creasing tools are available to produce creases in cardboards and corrugated boards. You can also cut materials that can be cut with the tangential model.
Max. reciprocating speed: approx. 10,000 strokes / min.
Stroke: 1 mm (depending on cutter and holder)
Tools: reciprocating cutter, swivel cutter / pen, creasing tool, high pressure tangential cutter
Max. cutting depth: 2 cm (depending on cutter and holder)
---
Innovative State-of-the-Art Technology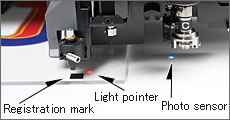 Colour photo sensor
The patented Mimaki colour photo sensor reads registration marks that are printed on the media to enhance precise contour cutting of complex shapes. More precision is obtained by automatic correction of alignment and distances between the cutting data and the output. The light pointers can also be used to precisely position the media on the table.
Air system with vacuum and blower function
The CF3 series incorporates an air system with a vacuum and blower function. The media is firmly held by the vacuum function. The blower function ensures easier positioning of heavy media. The vacuum area is divided into zones, 6 for the CF3-1631 and 2 for the CF3-1610. The zones can be separately activated to suit the media size.
The air system is also a feature of the JF series UV curable flatbed printers.
Automatic table surface cleaning
Cleaning the table surface is essential for the router to run smoothly. The automatic cleaning function selects the area to be cleaned from a total of 8 sections (both models). This feature enhances reliability and saves post cutting labour costs. The automatic cleaning function only applies to the M head (router).

Brochure
Brochure of CF3 Series
Please download the Mimaki CF3 Series brochure below.

Media