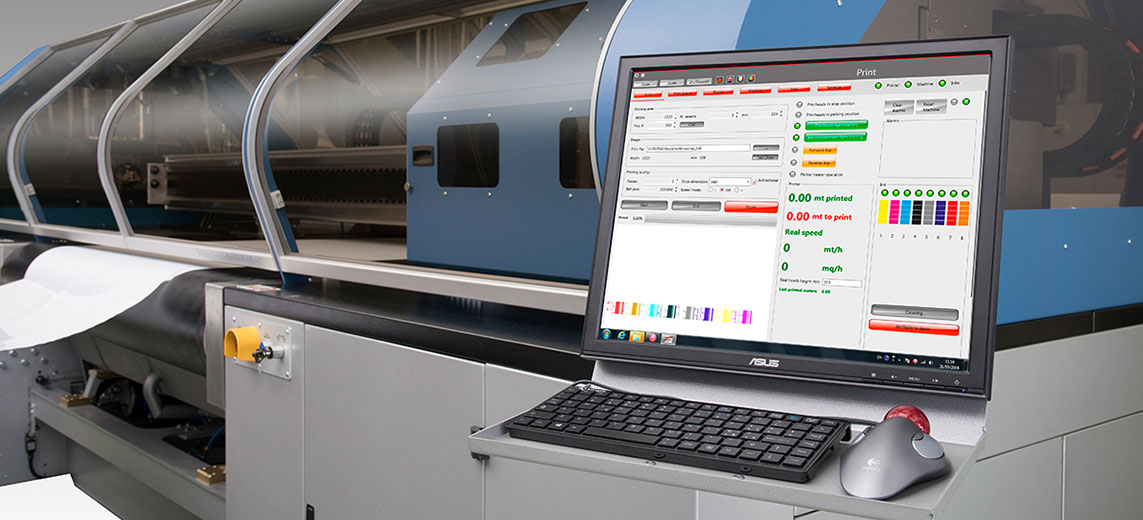 Newly improved sublimation model to make its world debut at FESPA 2018
Mimaki today announced that its production-class Tiger 1800B digital textile printer family has been enhanced with new features and capabilities as the company continues to drive higher quality in digital textile printing. The Tiger 1800B MkII, which will debut at FESPA 2018, offers an additional high-quality mode at 1200 dpi and several enhancements to improve quality, including reduction of banding and other printing defects.
"The conventional-to-digital transformation continues to heat up in textiles and apparel, and Mimaki, an early mover in this space, is dedicated to bringing affordable, industry-leading solutions to this segment," said Bert Benckhuysen, Product Manager EMEA at Mimaki Europe. "The Tiger 1800B MkII printers, available in two models for direct to textile and heat transfer sublimation, are just another example of this strategy in action. And our strategy goes beyond simply providing outstanding printers – especially in an emerging market such as this, it is critical to be a Total Solutions Provider. To that end, we are also making available a new range of pre-treatment and post-treatment machines, and we are working towards the development of Internet of Things for Textiles and Apparel market."
Mimaki at FESPA
FESPA Berlin, scheduled for 15 to 18 May, is the place to be to see the latest digital textile innovations, and Mimaki Stand 1.2-D20/D30 should be a first stop for designers and textile manufacturers seeking to learn more about the future of digitally printed textiles. Mimaki is showing a wide range of solutions at the show and the Tiger-1800B MkII is definitely one of the high points.
The Mimaki Tiger-1800B MkII prints at up to 385 square meters per hour and can cover a wide production range, from sample making to small to medium print runs. An additional 1200 dpi print mode is available for enhanced print quality.
A set of Mimaki's unique Core Technologies has also been added to the machine. Mimaki Advanced Pass System (MAPS) minimizes banding and colour shifting by spreading the edge of the pass, making the boundary area a gradation, resulting in a smoother printed image. Mimaki's proven Nozzle Checking Unit (NCU) and Nozzle Recovery System (NRS) are also incorporated in these new printers, enabling continuous high quality printing even if nozzle errors occur.
Mimaki is also making available an extensive line-up of optional devices to meet just about every fabric and transfer paper printing need. This includes a feeding unit for roll media equipped with a centering device and tension bar; a jumbo roll unit to enable printing of long-length roll fabric or heat transfer paper; and drying and winding or pleating options for printed fabrics.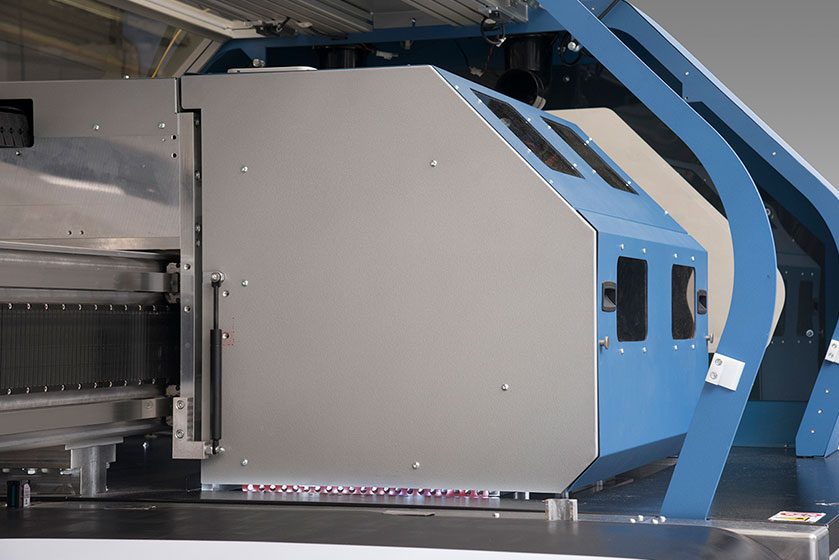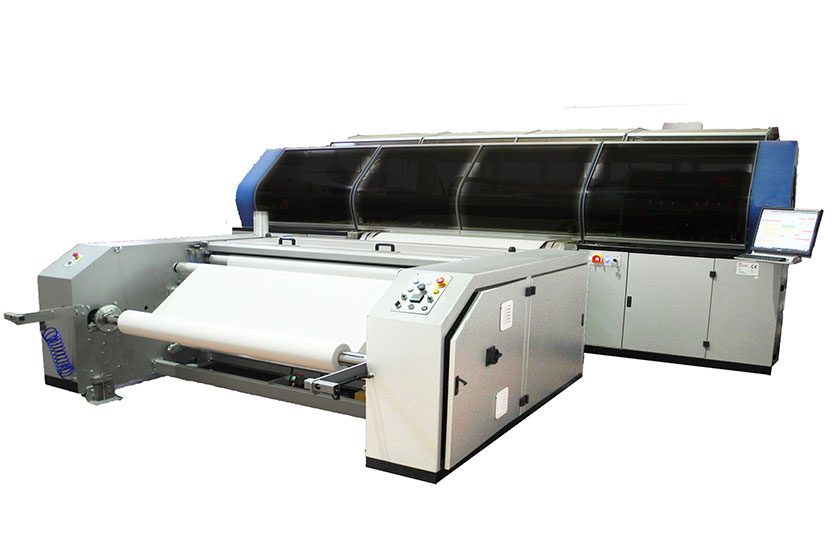 Mimaki Vision Jet-X
At FESPA 2018, Tiger-1800B MkII will be shown in combination with the jumbo roll of Mimaki Vision Jet-X sublimation transfer paper. Available in 1620 and 1830 mm widths, the Mimaki Vision Jet-X is lightweight (57g/m2), but suitable for producing almost everything from sports apparel, flags and banners requiring a high density of ink deposition to fashion and home fabrics with less ink coverage. It yields stable paper feeding and printing, preventing shrinkage and mis-registration of paper.
"We are looking forward to share with visitors to our stand how easy and profitable entry into the digital textile printing market can be, both for those new to textiles and those wishing to add digital printing as a complement to existing traditional textile printing methodologies," Benckhuysen added. "As always, our experts will be on hand to answer questions and to learn more about our visitors' businesses and requirements to guide future development."
Mimaki Tiger 1800B MkII Specifications
Item
Tiger-1800B Mk II

Direct-to-textile model

Tiger-1800B Mk II

Sublimation model

Print head
16 print heads

(8x 2 lines in a staggered layout)

8 print heads

(4x 2 lines in a staggered layout)

Print resolution
600 / 1,200dpi
600 / 1,200dpi
Print speed

(Fabric width: 1,500mm)

Max. 385㎡/h *1
Max.385㎡/h *1
Max. print width
1,850mm/72.8"
Max. media width
1,900mm/74.8"
Ink
Type
Reactive:MLRc500

(Acid/Sublimation/Pigment: TBD)

Sublimation:Sb510
Capacity
10kg (ink tank)
Ink set
Reactive:C,M,Y,K,Or,Bl,R,Lk

(Acid/sublimation/Pigment: TBD)

C,M,Y,K
Loadable ink color
8
4
Media core diameter
2 inch *2
3 inch *3
Roll weight
100kg (221 lb) or less *2
Feeding: 1,000kg (2205 lb) or less *3

Winding: 500kg (1103 lb) or less  *3

Roll diameter
400mm (15.7") or less  *2
Feeding: 1,000mm (39.4") or less *3

Winding: 500mm (19.7") or less *3

Interface
USB 2.0 / Ethernet
Power
Unit: 3-phase 380V ±10%, 65A or less
Heater: 3-phase 380V ±10%, 40A or less
Operational environment
Temperature: 20 – 25oC / 68 – 77oF   Humidity :35 – 65% Rh
Outer dimension

(W×D×H)

Main unit: 5,250×2,010×2,024mm

(206.7×79.1×79.7")

Feeding unit : 2,240x475x1,167mm *2

(88.2×18.7×45.9")   *2

Heater/Winding unit:

2,825×1,300×1,034mm *2

(111.2×51.2×40.7") *2

Main unit: 5,250×2,010×2,024mm

(206.7×79.1×79.7")

Feeding unit :2,730×1,703×1,315mm *3

(107.5×67.0x51.8")  *3

Heater/Winding unit:

2,895×2,400×1,084mm *3

(114.0×94.5×42.7") *3

Weight
Main unit: 4,750㎏/1,0472lb

Feeding unit:130kg/287lb  *2

Heater/Winding unit:840kg/1,852lb *2

Main unit: 4,750㎏/1,0472lb

Feeding unit:722kg/1,592lb *3

Heater/Winding unit:1,580kg/3,484lb *3
*1:385㎡/h: Printed with high speed (3drop) mode – 600×600dpi, 1pass, 1Layer
*2 : When the standard unit (option) is attached to Feeding/Winding unit.
*3:When the jumbo roll unit (option) is attached to Feeding/Winding unit.
* Specifications, designs and dimensions stated in this list may be subject to change without notice due to technical improvement etc.